TALK Live Online: Higher Beginners & Up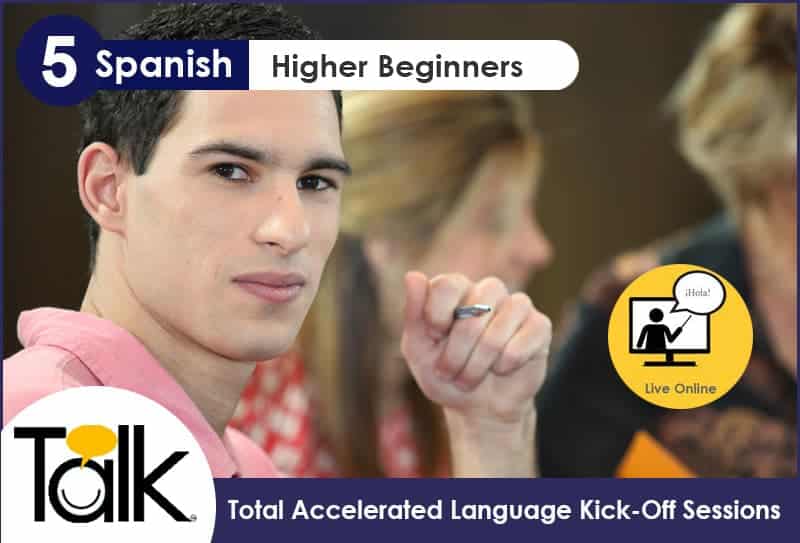 Class Description: 
The TALK (Total Accelerated Language Kick-Off) sessions are conversation workshops for Spanish language learners to practice conversation and gain language fluency.
This special Grammar, Vocabulary and TALK session for Higher Beginners & Up offers you a unique opportunity to hone your Spanish conversation skills in a fun and relaxed way via the Internet. The session will be guided by an experienced language coach. During the live online session, you'll have an opportunity to review key grammar topics, learn new vocabulary and hone your communication skills in Spanish.
What is a Higher Beginner:
Higher beginners understand sentences and frequently used expressions related to areas of most immediate relevance. They can communicate in the past in simple uncomplicated sentences. Speakers at this level can describe in simple terms aspects of their background, immediate environment and topics in relevant areas of their lives.
How Live Online Sessions Work:
Lessons are live in 100% real time-via the Internet. You work hand in hand with a language coach in a virtual classroom. The day of the session, you'll get a link to have access to a virtual classroom where the session will be conducted. Entering the virtual classroom is very simple and you won't need to install anything on your computer. A video-camera and good Internet connection is a must!
When: Every Wednesday from 8 pm to 9 pm
Fee: $14.50 
Free for all active In-Person and Live Online students. (First come first served. RSVP is strictly need) RSVP here!
How to Join the Session:
After you sign up for this class, you will receive a link to access a virtual classroom where the session will be conducted. Entering the virtual classroom is very simple:
Click on the link, then enter your name and click "Join now":
2. The Classroom will do a system check that takes 1-2 minutes and you'll redirected to the room:
Technical Recommendations:
Use a computer, laptop or a tablet. A cell phone is not recommended for these sessions.
You must have a microphone to talk during the class. A video camera is highly recommended.
Make sure you have a good Internet connection. Poor connectivity will result in noise and class disturbance.