6-Week Course: Spanish Essentials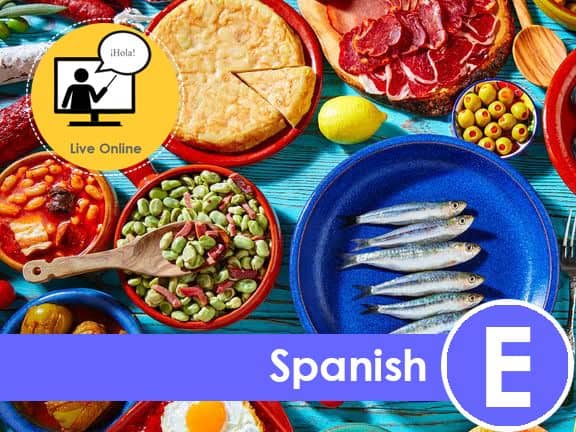 Course description:
This course is designed for learners new to Spanish or those with previous knowledge of Spanish considered 'false' beginners. False beginners are typically learners who have had some training at some point in time and are now returning to start learning Spanish again.
This is a 6-Week intensive course specially crafted for online learning. You'll learn essentials about Hispanic life, society and traditions as a tool for developing your language skills in Spanish. Students will meet with their language coach on our Virtual Classroom once a week. Space is strictly limited to 4 students per group to ensure a maximum level of interaction. During the sessions the coach will use videos, photos, audios and other learning tools as a natural and fun way to develop language proficiency. Additionally, students will be given free access for two months to a self-study online course to review grammar topics, learn vocabulary and  practice listening comprehension at their own spare time.
How Live Online Sessions Work:
Lessons are live in 100% real time-via the Internet. You work hand in hand with a language coach in a virtual classroom. The day of the session, you'll get a link to have access to a virtual classroom where the session will be conducted. Entering the virtual classroom is very simple and you won't need to install anything on your computer. A video-camera and good Internet connection is a must!
When: Tuesdays, starting on 04/07/2020
Time: 6:15 pm – 7:30 pm
Length: 6 weeks
Fee: $125
How to Join the Session:
After you sign up for this class, you will receive a link to access a virtual classroom where the session will be conducted. Entering the virtual classroom is very simple:
Click on the link, then enter your name and click "Join now":
2. The Classroom will do a system check that takes 1-2 minutes and you'll redirected to the room:
Technical Recommendations:
Use a computer, laptop or a tablet. A cell phone is not recommended for these sessions.
You must have a microphone to talk during the class. A video camera is highly recommended.
Make sure you have a good Internet connection. Poor connectivity will result in noise and class disturbance.