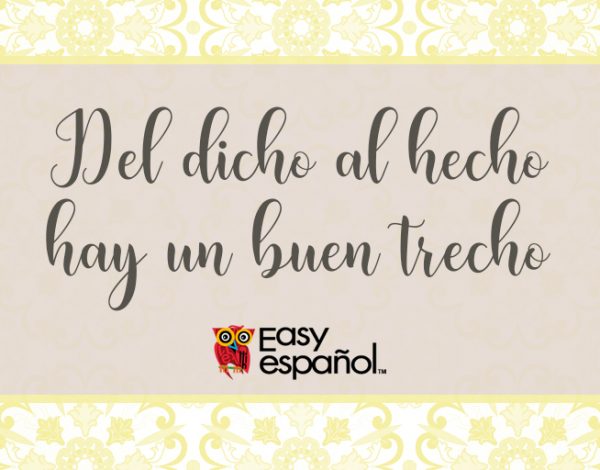 SAYING OF THE DAY: Del dicho al hecho…
"Del dicho al hecho hay un buen trecho" es una antigua expresión popular que continua siendo muy vigente hoy en día.
Esta frase se emplea para advertir a otros sobre la diferencia entre decir o prometer algo y realmente hacerlo. A veces la diferencia entre "el dicho" y "el hecho" radica en la dificultad de cumplir lo que se promete y a veces en la falta de honestidad de la persona que hace la promesa.
De acuerdo al "Diccionario castellano con las voces de ciencias y artes y sus correspondientes en las tres lenguas francesa, latina e italiana (1787)", de Esteban de Terreros y Pando, es posible que esta expresión haya derivado del latin "Loqui facile, praestari difficile" (hablar es fácil, prestar difícil), sin embargo, como suele suceder con estas frases populares que han sido transmitidas de boca en boca su origen es incierto.
Otras variantes de esta frase son:
"Del dicho al hecho hay un gran trecho"
"Del dicho al hecho hay un largo trecho"
"Del dicho al hecho va mucho trecho"
Los equivalentes más cercanos en inglés son "actions speak louder than words", "easier said than done" and "all talk, but no action."
Ejemplos:
– "Marta dijo que dejará de fumar este mes." "Marta says she'll quit smoking this month."
– "Siempre dice lo mismo, pero del dicho al hecho hay un buen trecho." "She always says the same thing, but it's easier said than done."
– "Me gusta este candidato; tiene muchos buenos planes para la ciudad." "I like this candidate; he has lots of goof plans for the city."
– "Todos los candidatos tienen buenos planes durante la campaña, pero después de las elecciones parecen olvidarlos. Ya sabes lo que dicen, del dicho al hecho hay un buen trecho." "All candidates have good plans during the campaign, but the after the elections they seem to forget all about them. You know what they say: "actions speak louder than words."