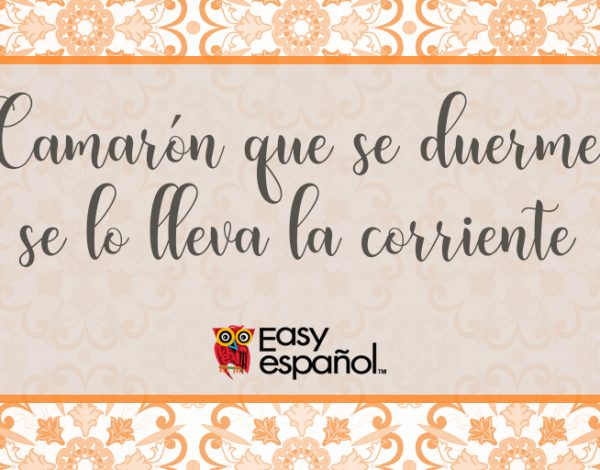 SAYING OF THE DAY: Camarón que se duerme…
"Camarón que se duerme se lo lleva la corriente" es un pintoresco refrán que es especialmente popular en América Latina.
Esta frase se utiliza para advertir sobre los peligros de la pereza o de la falta de atención a nuestro entorno. Es decir, si no te aplicas o esfuerzas, las oportunidades de la vida te pasarán por alto o puedes perder lo que has conseguido si "te duermes", si no prestas atención.
Aunque no se conoce su origen específico, la frase hace referencia a como los camarones de río deben sujetarse a las piedras o el lecho del río para no ser arrastrados por la corriente donde pueden estar a merced de los depredadores.
Su equivalente más exacto en inglés es "you snooze, you lose."
Otras variantes del refrán son:
Camarón que se duerme se despierta en el cóctel.
Cocodrilo que se duerme es cartera.
Ejemplos:

No olvides que la entrevista es el lunes a primera hora; debes ser muy puntual. Recuerda: "camarón que se duerme se lo lleva la corriente".
Don't forget that the interview is first thing Monday; you must be on time. Remember: "you snooze, you lose."
Si sigue llegando tarde al trabajo todas las semanas, va a sufrir las consecuencias. Piensa que ahora que es gerente puede hacer cualquier cosa, pero hay muchos otros empleados que podrían hacer su trabajo. Debería recordar el viejo dicho: "camarón que se duerme se lo lleva la corriente".
If he keeps arriving late every week, there's going to be consequences. He thinks that now that he's the manager he can do anything, but there are many other employees that could do his job. He should remember the old saying "you snooze, you lose."