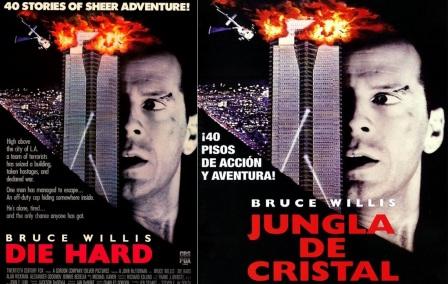 ¿Cómo se llama esa película?
¿A quién no le gusta el cine? Posiblemente a muy pocas personas. Sentarnos delante de una pantalla y disfrutar de una historia romántica, un western o las aventuras de un agente secreto, es algo que fascina a casi todo el mundo. ¿Cuántas conversaciones giran alrededor de tal o cual película? Hablamos de las actrices, de los directores, de los títulos…
Y en este último aspecto podemos encontrarnos con algún pequeño problema. Lo lógico sería que cuando una película se estrena en otro país, con otra lengua, se hiciera una traducción más o menos literal de su título. No obstante eso no ocurre siempre así. En ocasiones las empresas distribuidoras cambian los nombres pensando que van a tener más gancho, que se adecúan mejor al país de destino o que así se entenderá más fácilmente. Vamos a hacer un repaso a los títulos de algunas películas de habla inglesa y compararlas con el nombre con el que se estrenaron en España.
Die Hard (1988). Como las aventuras de Bruce Willis tienen lugar en un rascacielos, a alguien se le ocurrió llamarla La Jungla de Cristal, que suena bien como metáfora. El problema vino con las secuelas. La segunda película tiene lugar en un aeropuerto, la tercera en todo Nueva York y la cuarta en Rusia. No obstante, todas mantuvieron el mismo título, añadiendo 2, 3 y 4. En Hispanoamérica se pudo ver con otro título diferente: Duro de Matar.
First Blood (1982). La película que lanzó a la fama a Sylvester Stallone se tradujo como Acorralado. Lo cierto es que define bien las aventuras por las que pasa Sly, pero pierde el sentido del título original.
Miller´s Crossing (1990). Además de una gran película de los hermanos Cohen, el cambio de título tiene una bonita historia detrás. Parece ser que, desde un principio, los directores quisieron llamarla Muerte entre las Flores, pero a la productora le parecía un nombre demasiado onírico, teniendo en cuenta el tipo de historia que narra. No obstante llegaron a un acuerdo para estrenarla en otros países con este poético nombre.
Dr. Strangelove Or: How I Learned to Stop Worrying and Love the Bomb (1964). Esta película de Stanley Kubrick, protagonizada por el gran Peter Sellers, se estrenó en España con el título Teléfono Rojo: ¡Volamos hacia Moscú! ¿Te lo hubieras imaginado?
Eternal Sunshine of the Spotless Mind (2004). La historia de amor protagonizada por Jim Carrey y Kate Winslet, con guión de Charlie Kaufman, que ganó el Óscar, se llamó ¡Olvídate de Mí!, en España. Una manera curiosa de resumir la historia. El título en Hispanoamérica es una traducción literal del original que, en castellano, no tiene mucho sentido: Eterno Resplandor de una Mente sin Recuerdos.
¿Quieres compartir otros títulos que te hayan llamado la atención?
Click here to listen to the article: